Footprint Media, Gilbert, AZ, 05/22/2019



Before starting her PhD, Christine Figgener worked in marine turtle research and conservation in Central America for over a decade. Her ambition is to apply her research findings to the conservation of endangered species, particularly marine turtles.
We're giving out most recent Footprint Ocean Hero Award to marine conservation biologist Christine Figgener. You may remember her viral video where she and her team removed a plastic straw from an olive ridley turtle's nose. If not, here it is:
This heartbreaking video has received more than 35 million views and created a groundswell of support for plastic straw bans, as well as companies pledging to stop using them and other single-use plastics. She's also an enthusiastic supporter of Footprint, agreeing to act as our Footprint Ocean Ambassador to help us raise awareness about the dangers plastic poses to marine life and human health.
Jeff Bassett, Vice President of Marketing, coordinates the award program and explains why everyone is excited to work with Christine. "We want to make sure we are highlighting a tremendous achievement in reducing the amount of plastic making its way into our environment.
In Christine's case, her efforts have dramatically stunted the use of plastic straws and her video created a meaningful tipping point where cities, schools, parks and businesses really started to think about not using, and even banning, plastic straws."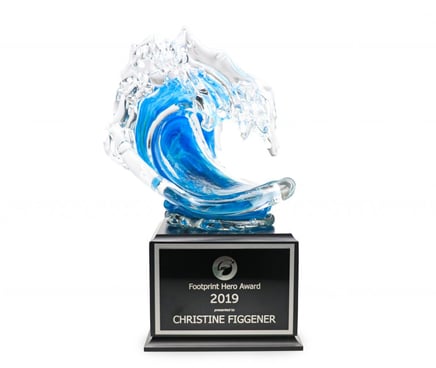 In Honor of World Turtle Day - Limited Edition Straw Pack
Today we are releasing a limited edition paper straw pack at FootprintUS.com/WorldTurtleDay. Each pack is $20 (free shipping) for 80 straws, and a portion of the proceeds from all sales will be donated to Christine's turtle conservation efforts.
Further, this website will allow anyone—not just food and beverage companies—to buy paper straws from Footprint.
"I really am excited to help make reliable, 100 percent marine-friendly paper straws available to everybody," says Christine Figgener. "Footprint creates a great product. The straws are durable and you can use them like you would any plastic straw--but I will never have pull one out of a turtle's nose."
Christine has made such an impact that she was recently named a Next Generation Leader by TIME Magazine and was a finalist of the feature Texan of the Year by the Dallas Morning News.
Join us and help protect marine life by visiting FootprintUS.com/WorldTurtleDay and trying out Footprint's paper straws for yourself.